280T Tandem Series Knitting Machine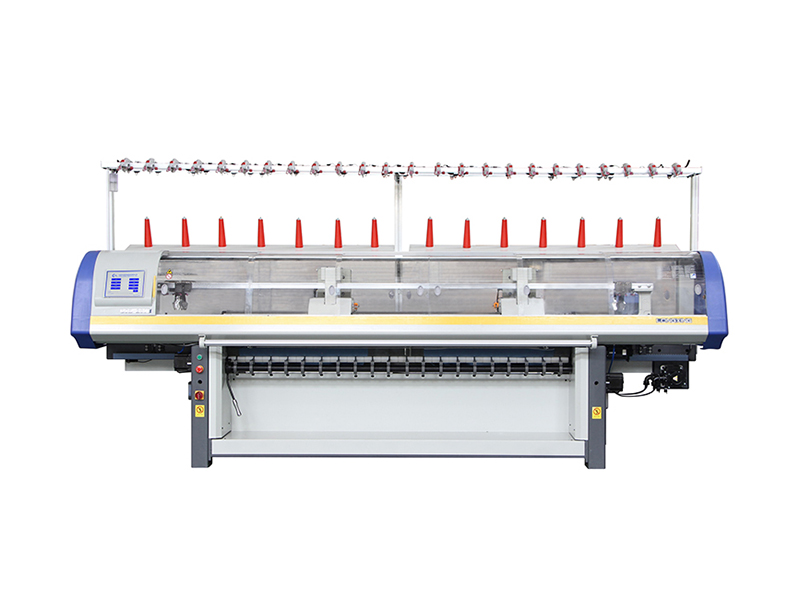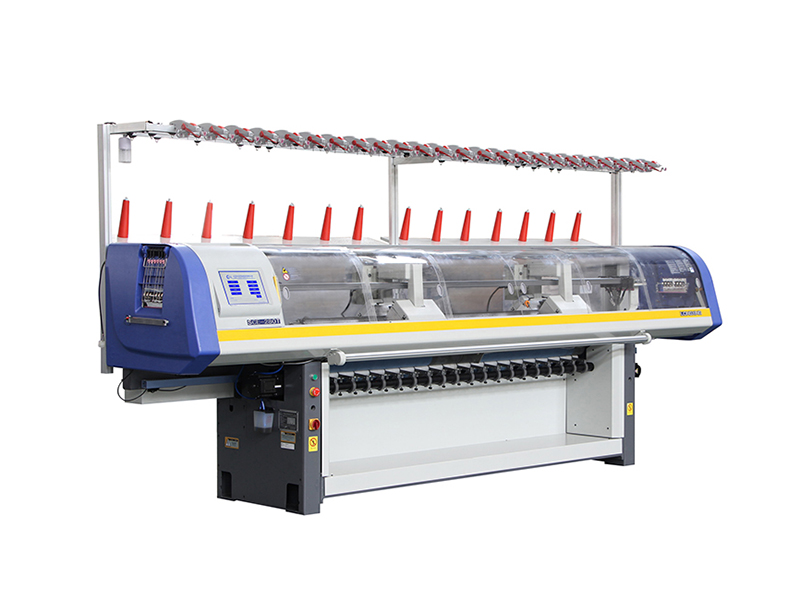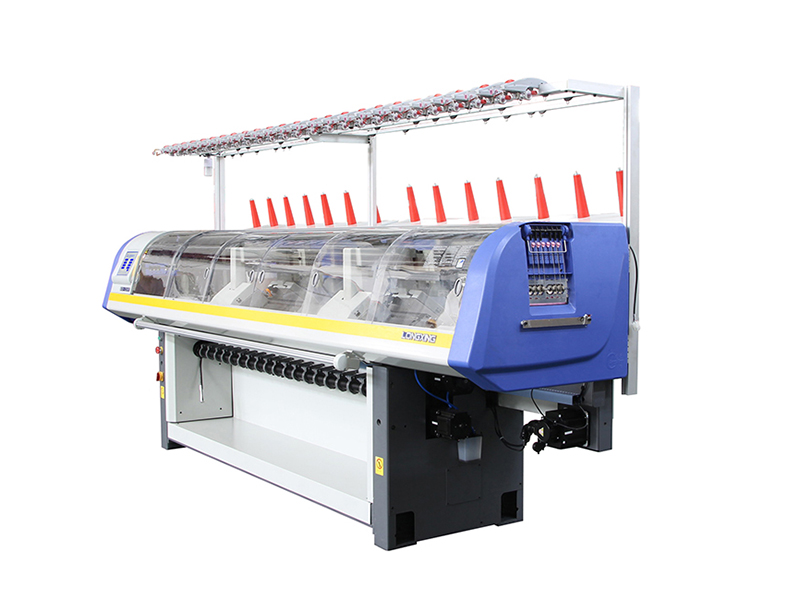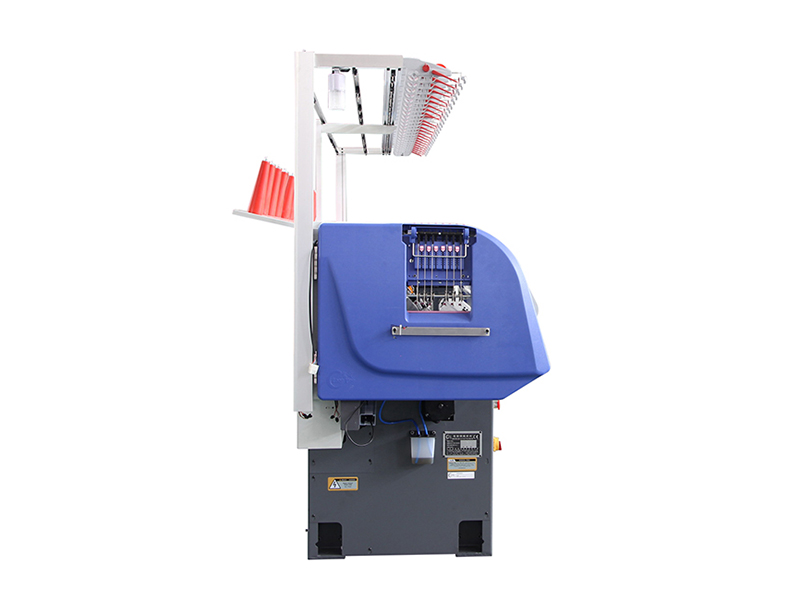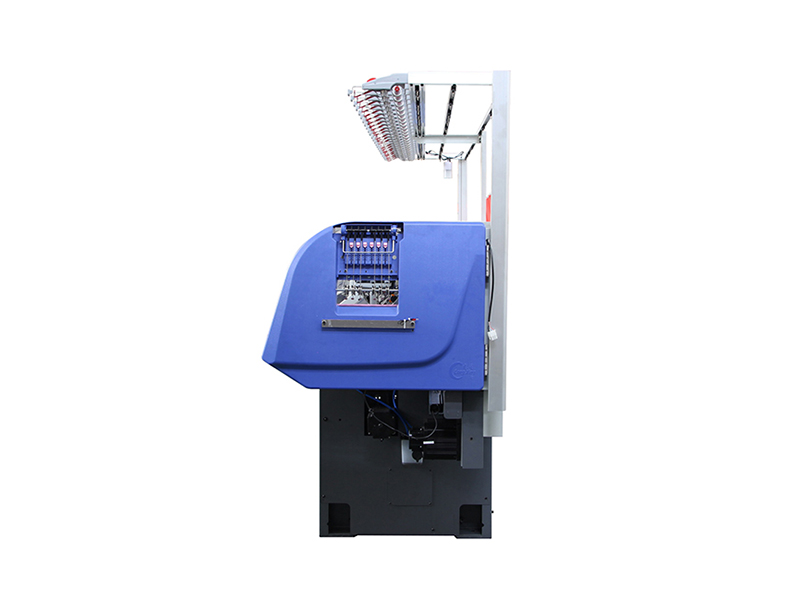 The 280T series is a full jacquard machine developed especially for economical knitting of collars, full fashion cardigan and wide knitting fabric, as well as full-width panels and even shaping. Full tandem knitting capa- bility for increased flexibility and high productivity. The 280T series model also features advanced knitting technology such as a new electric direction needle selection system, ceramic wearproof top tensions with easy threading. Combine carriage working as two system knitting 80 inch full needle bed. The 280T ouers high performance suitable for the production of a vast assortment of knitted items.
TANDEM AND COMBINE CARRIAGE WORKING MODE FLEXIBILITY

The 280T is equipped two carriages, each with a full direction selection system. Carriage can combine together working as two knitting system and 80 inch full bed knitting in combine mode. Furthermore, shaping capability, multi-piece function support more than 7 pieces knited independently in one time, without wasting materials through drawn thread divide. Tandem operation in the 280T thereby allows the machine to support a variety of production methods, significantly increasing the fiexibitity and productivity of the machine.

Carriage tandem model can be used for knitting high quality collar & sleeve. Carriage separate knitting wide 35inch work as two single system machine. Two carriage work same time with same design.

EXTRA YARN SUPPORT

280T series machine is equipped 24 pcs top tensions. Supply multi-pieces knitting. Machine is equipped extra yarn stand for extra yarn cone.

CERAMIC WEARPROOF TOP TENSIONS DEVICE

The top tension device is equipped a convenient easy threading system for quick threading yarn. When knots are detected during knitting, machine will be auto stop. The top tension device have euective quality control sensor for detecting yarn break. It use high polymer ceramic material for wearproof when yarn or chemical fiber through the tension plate and yarn guider ring. Yarn supply tension spring is adjustable for diuerent yarn count and diuerent gauge.

ULTRA HARD INSERT NEEDLE BED

280T series model use insert needle bed(optional). Insert use tough steel under hardness and polish process, make needle bed toughly. spacer and insert is changeable when series damage instead of change needle bed. Machine use-life extend. Needle groove with higher precision make farbic quality improve.

NEW GENERATION CONTROL SYSTEM

Dynamic stitches (density) can be set on a line, multi-piece can set diuerent density for diuerent piece. The flexible control algorithm can support network system and expansion function. The kniting width and height can be directly modified in control system, easy to change diuerent size production. The carriage moving and racking at same time with optimize carriage stroke improve knitting eficiency.
PRODUCT DIFFERENCE COMPARISON

MACHINE MODEL

SELECTION SYSTEM

TRANSFER

INTARSIA KNITTING

SINKER SYSTEM

MAX RACKING

MULTI- PIECES

NEEDLE BED

LX280T

DIRECTION

NO

NO

NO

1 INCH

YES

CUT

SCE280T

DIRECTION

YES

NO

NO

1 INCH

YES

CUT
(INSERT OPTIONAL)

LXC280T

3-WAY

YES

YES

YES

2 INCH

YES

INSERT
MAIN PARAMETER

Gauge

7G,9G,10G,12G,14G,16G(LX280T LXC280T),18G(LXC280T)

Maximum Knitting Width Inch(cm)

Carriage combine 80 inch(203cm); Carriage separate 35 inch(90cm)

Carriage System

1+1 Tandem or Combine 2 system

Needle Selection System

8 levels of selection jack,SCE280T LX280T Directly selection system, LXC280T 3-WAY

Racking

Driving by servo motor,LX280T and SCE280T Max 1 inch, LXC280T Max 2 inch

Take Down

128 option, Top-Rubber roller(optional) driving by step motor and main roller driving by AC motor

Yarn Feeder

Two roller yarn feeder (left and right)

Yarn Carrier

LX280T and SCE280T 3 rail (6+6 color), LXC280T 4 rail (8+8 color); Automatic stop

Carriage Driving Device

Driving by servo motor; Timing belt

Knitting Speed【1】

128 option of speed. Max 1.4m/s

Data Input

USB2.0, RJ45(optional) 512M memory

Safety Equipment

Emergency stop switch; Emergency power off equipment; Abnormal stop and alarm with light and sound

Power Consumption【2】

1 phase AC 220V, 50/60HZ, electricity consumption 1 KW
【1】Depends on the gauge, yarn and the pattern etc.
【2】The actual electricity consumption is far below.



MACHINE MODEL

BOUNDARY DIMENSION(mm)

PACKAGE DIMENSION(mm)




NET WEIGHT(KG)




GROSS WEIGHT(KG)

LENGTH×WIDTH×HEIGHT(A×B×C)

LENGTH×WIDTH×HEIGHT

LX280T

3715×815×1850

3900×1050×1820

940

1190

SCE280T

3715×815×1850

3900×1050×1820

940

1190

LXC280T

3715×815×1850

3900×1050×1820

1450

1700
Because of the improvement and development of products, we reserve the right to change technical data. Please contact us for the latest information.
Feedback form contact with us